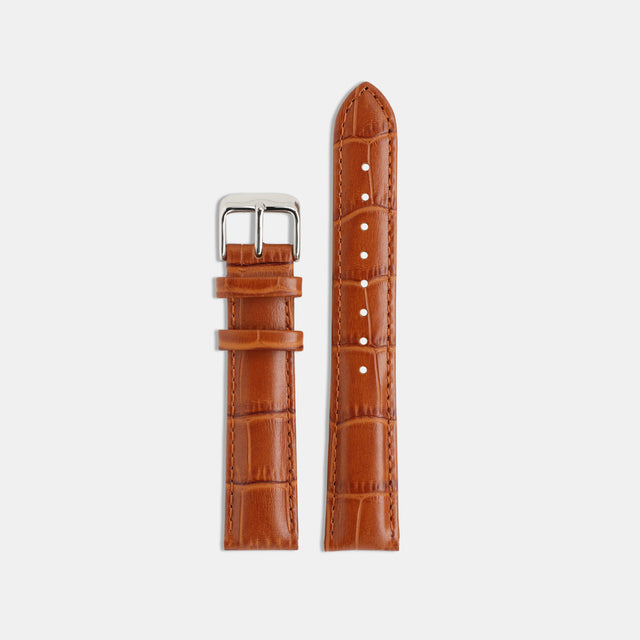 Brown Crocodile Leather Strap / Silver
Description
Details
Shipping
Change up the look of your watch by getting an extra leather strap. All our straps feature quick release spring bars for easy interchangeability and are compatible with the Disorganised Symphony collection.
• Material: Crocodile embossed genuine leather with quick release spring bars
• Colour: Brown
• Buckle: Silver 316L stainless steel
• Strap width: 18mm
• Free international shipping
• Duty & tax paid (DDP)
Details
Delivery & Returns
Free, fully trackable international delivery. 30-day returns.
We might look like it, but we're not here to play.
This luxury arm candy is the baby of world-class craftmanship + bespoke design by yours truly.
We worked directly with manufacturers of luxury brands to create this timepiece that features a classic white dial juxtaposed with a moonphase complication - a versatile design that suits your daily OOTD, but is also dressy enough for a classy night out.
For the girlboss that you are.
A tailored fit for a lady's wrist.
Born from our own frustrations of finding a watch that fits a lady's wrist - our 36mm diameter case is a classic size that neither overwhelms or understates.
A boyfriend watch that you can finally wear.
Our taste is simple, we only like the best (materials).
Designed to slay, we use only surgical grade 316L stainless steel, the grade used by luxury watch brands like Omega and IWC. This grade of stainless steel has an extra-low carbon content and is extremely corrosion resistant and durable.
When only the finest will do.
Hearts get broken before this baby breaks.
Our premium timepiece is fitted with a high quality single-dome sapphire crystal, which is used by high-end watches that are built to last decades.
Second only to diamond in terms of hardness, our watch face is scratch resistant and has high clarity.
View life in HD now.
Interchangeable Straps - because we have commitment issues.
Our watch straps come with quick-release mechanisms, which means you can customize your watch within seconds on the go.
The perfect fashion accessory.
Japanese Movement - More reliable than your pair of favourite jeans
Trusty and dependable - Because it is what's on the inside that counts. At the heart of this watch is a premium Japanese quartz movement (Miyota 6P20) - the preferred workhorse of choice for luxury brands. It keeps time accurately so you will always arrive on time (or show up fashionably late).
If only all boys are this reliable.